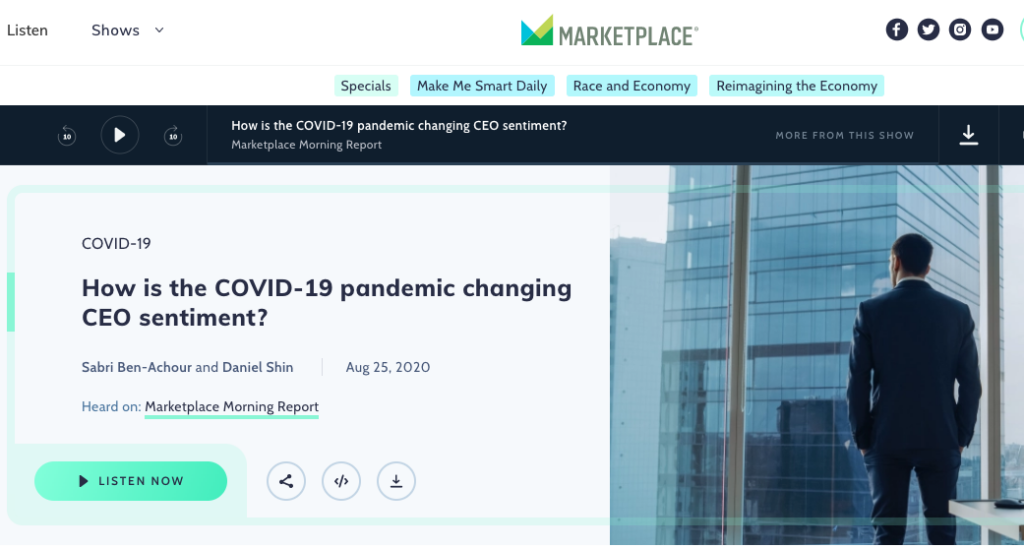 Some of you have said to us, "We are looking to downsize our office space." Turns out, 69% of CEOs say the same thing. KPMG conducts an annual survey of CEOs. In 2020, they got the feedback of 315. Many of them realize they many not need all that office space. In 2020, these smart CEOs are looking to alternatives.
Not to worry, 60% of the CEOS said they are "more confident" in their businesses' growth prospects. That's as compared with the beginning of the year.
And, nearly that many said: "The pandemic has changed their focus towards their environmental, social and governance-related programs."
In August, NPR's "Marketplace Morning Report" host Sabri Ben-Achour interviewed KPMG Chair and CEO Paul Knopp. One interesting note, many CEOs are zeroing in on their company's purpose. That's how they affect the world and their stakeholders. And, they are getting clear on their values.
Downsizing to Fine Tune
So, when these CEOs say "We are going to downsize our office space," what they mean is fine-tune their operations. The goals: 1. Adapt in light of how we work now. 2. The usefulness of technology for collaboration. 3. The impact they are having on those around them.
CoWork 414 Offers Flexible Office Space
If you are also downsizing your office yet need a place to bring people together for team time, contact us. Some of your employees may not feel cut out for working from home. Or, you may need them to be in a professional setting, just not in the office that seemed like it was working — until the pandemic hit.
We have developed a basic package just for teams or businesses with multiple employees. Especially ones who no longer need the whole team working in the same space every day. Plus, the package includes the ability for your remotely located team to meet in-person on a regular basis in the conference room. Best of all, your company would be able have a commercial business address. And of course, you could then receive mail here.