Our most frequently asked question is some form of: "I want to find coworking in Bethlehem, cowork near me, or rent a conference room, what do you have available?" Here are some of the possibilities at CoWork 414:
---
RENT A CONFERENCE ROOM, BRING YOUR TEAM TOGETHER, OR START A BUSINESS IN BETHLEHEM AT THIS FINE ADDRESS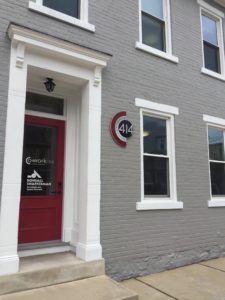 414 W. BROAD STREET, SUITE 200, BETHLEHEM PA 18018

Looking to test the business possibilities of Bethlehem, but not ready to open your own office?
Do you need a gathering space for your team or business of up to 8 people?
Contact us! We may be just what you are looking for. Please note: The conference room is on the 2nd floor of this pre-universal design 1890 building and we do not have an elevator.
'COWORK NEAR ME' … PART-TIME OR FULL-TIME DESK IN A PROFESSIONAL OFFICE SPACE:
Contact us about our current openings or to tour the space.
Here's one more important question we often hear …
'CAN I SPEAK WITH YOU ABOUT MY PARTICULAR SITUATION?'
Yes! While the above are the main CoWork 414 options to start a business in Bethlehem or operate a business, 'cowork near me,' or rent a conference room, we understand you may have a different business need.

Maybe you want a Bethlehem address to expand your existing business, a home base between sales calls, or are hiring your first employee and need two spaces. Let's talk! Please click here to contact us and we'll call you.
Or, for details about the membership levels for coworking, click here.