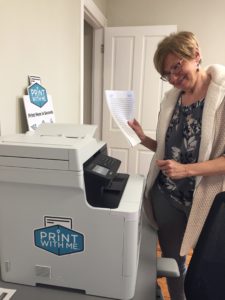 Cowork in Bethlehem is good for business
Imagine if you could just show up -- when you want to -- in an already-established office with a good vibe where you can choose the workspace you like and simply plug in. Now you can cowork in Bethlehem. Grab a cup of coffee, print out your presentation (that's what Laura's doing in this pic!). Talk to us.
Make your work day as productive as it can be in a space completely set up for you  –– a professional one you'll be proud for your clients to see –– and away from distractions.
Maybe you're thinking, "I want to hire my first employee, my dining room no longer works as an office." Yet you don't want to take on the risk, lengthy term or expense of leasing and fitting out a commercial space. When your team coworks in Bethlehem at CoWork 414, you can grow into the next phase of your business. We have businesses where the co-owners or owner & employee work independently but get together at 414 for team time or training.
And, if the conference room or professional mailing address are what's most important to you, talk to us!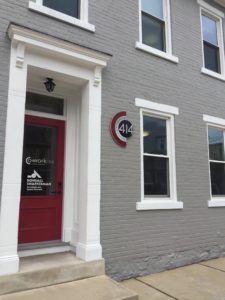 'Working from home is living at the office'
–– coworker Andy Snell ...
"After working from a home office for a number of years, I was fed up with feeling 'trapped' in my house, being alone all day, and the gradual muddying of the separation between work-life and home-life. I had a good experience with coworking while on an extended vacation a few years ago, and wanted to find something similar in Bethlehem.
"CoWork 414 provides a highly productive work environment. Working from here gives me enough extra billable hours to offset the cost.
"The biggest benefit is I work odd hours for a company not located in our timezone — the 24/7 access that comes with the dedicated desk package is huge for me.
"The location, a ten minute walk from Main Street, is a wonderful plus. The furnishings (chairs) are top notch and workspace is always comfortable."
Put Your Business on the (Google) Map
Don't want your house coming up on Google Maps? We can help!
Also great if you are testing the waters for an additional office location in Bethlehem.
'Needed a conference room'
"We needed a conference room with space to hold educational seminars with our clients. Location, parking & appearance were all priorities and CoWork 414 checked all the boxes!
"CoWork 414 provided us with a beautifully appointed, professional conference room which would accommodate 8 people for educational seminars.
"Everyone at CoWork 414 is very professional. Housed in a beautifully restored historical building on W. Broad Street, the work space accommodations are well thought out and exquisitely maintained. The parking and location of the building is in a very nice section of Bethlehem and in convenient proximity to major highways."
-- Lisa Moyer, Silver Crest Insurance, Inc.; Bethlehem.
Looking for swing space or hiring your first employee? Cowork in Bethlehem!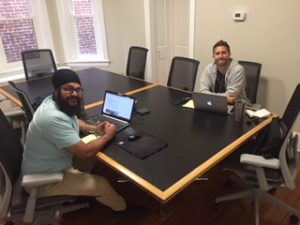 "We were in-between offices for a month and needed a place for our team to come together and work a few days per week. That we were able to 'rent' desks for only two days a week was really helpful. Also, short term lease for only one month.
"Great space, friendly co-workers. The conference room booking system was key as Harp and I like to set up shop in there when it wasn't booked. Slack updates were nice as well so we knew what was going on in the community."
–– David K. Whitlock, S. Huntley & Co.
Why CoWork 414?
You get more done in less time. That's the consensus of our coworkers. Whether it's focus, that other people are also mission-driven, that the space is comfortable but not too comfortable, let us know if you'd like to come find out for yourself. Just click here.
And at CoWork 414, we provide office space and support networking, co-creating, and collaboration. These are just some of the benefits of coworking, which is very popular in big cities and moving out to smaller cities and regions like Bethlehem and the Lehigh Valley.
How's your marketing? Check out our Marketing Madness lunch topics! Strategies you can use right away. All sessions included in membership, though non-members can contact us about registration. Other member events are just for fun.
Yet we also offer independence, security and confidentiality. 414 offers a safe base from which to be an entrepreneur, remote employee or "on your own" as a freelancer.
When you cowork in Bethlehem, you instantly tap into networks – professional, neighborhood –– including the West Broad Street Business Association –– community, city, and regional. CoWork 414 is part of a neighborhood, on many levels. (Photo: A spring view from one of our coworking desks.)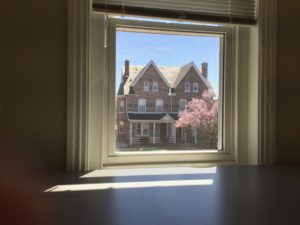 Next Steps...
We offer full-time, part-time, basic and community memberships. Are you a remote rep establishing a presence in Bethlehem? Part-time professional?
Entrepreneur or freelancer? On-the-road business owner who needs a desk ... sometimes?
Work-at-home and need a conference room occasionally? Returning vet, recent graduate, startup?
Civic or community leader, or local business that wants to add more visibility and vitality to West Bethlehem?
How many days per week would you like to be in a comfortable office as part of a great community?
Click the button to express your interest or check the Events page to find out what's cookin'.