NOTE: During Covid, some restrictions apply! Please contact us to see whether the conference room is available.
Need to rent a conference room for a few hours or day(s)? Or maybe you work from home and want a professional setting (away from coffee shop noise) to meet clients or hold a videoconference call*? Good news, we offer short-term conference room rental of an attractive, clean and professional space. Plus, it's just a few minutes from the LVI Airport and the I-78 exit, and close to the Route 22 and I-378 exits (very) – a convenient place to make the right impression or get a lot done in a day or even a few hours.
(However, if you need a conference room on a regular basis, you can also apply to become a member because it's included as part of your membership. For details, click here.)
NB: Our conference room is on the 2nd floor of an 1890 building, so you and your guests would need to be able to access via the stairs.
Our conference room can comfortably seat 8 to 10. We have two configurations available:

4-person meeting table (standard)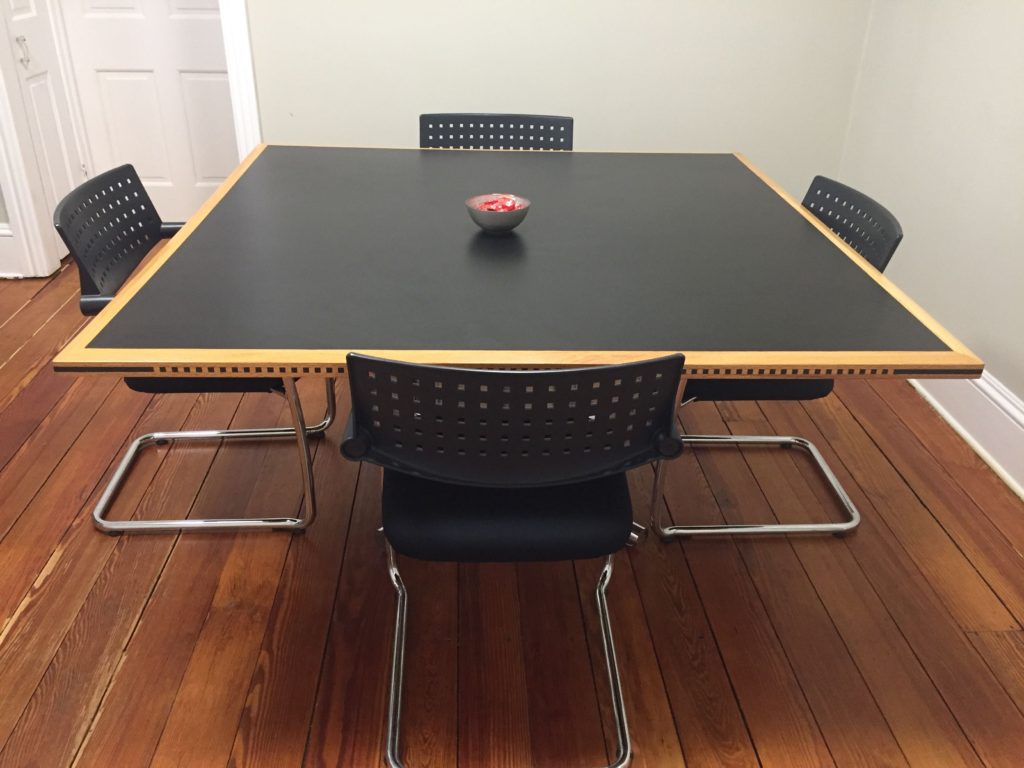 Large meeting table (by request)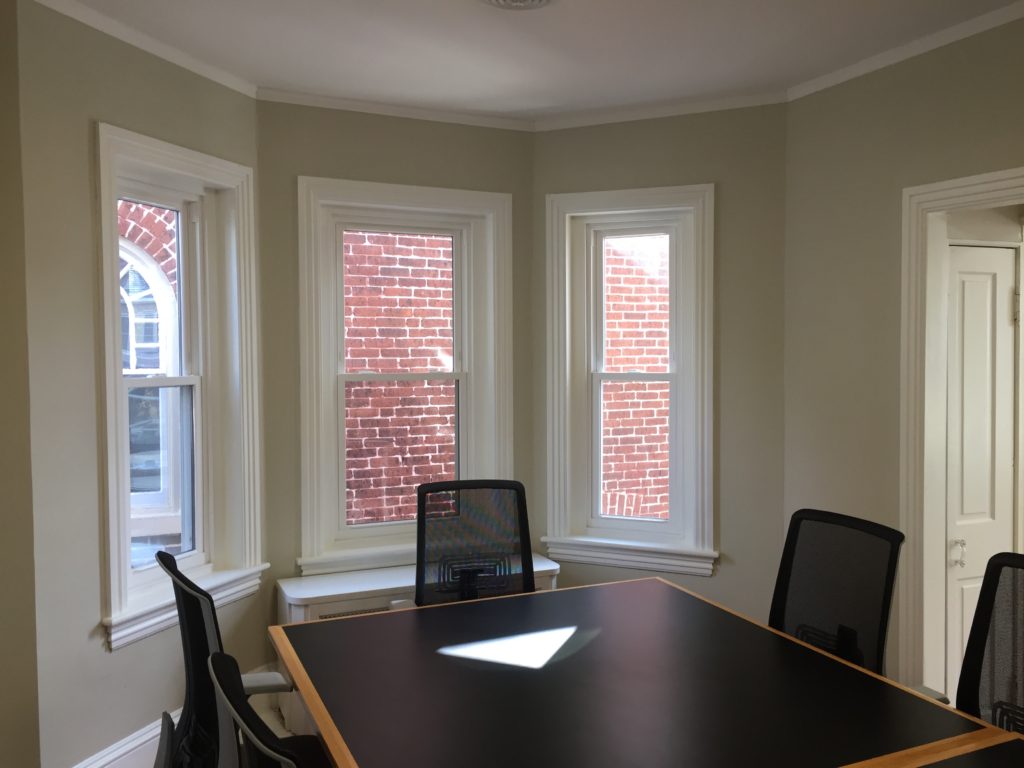 'The Fine Print' to Rent a Conference Room
This is a professional office and we all show common courtesy toward each other. When you rent a conference room, building rules apply, including being kind to each other and the space. There is no smoking.
Please leave the conference room in the condition in which you found it; you are responsible for any needed cleanup.
In general, this conference room is perfect for business meetings or interviews, one-on-one academic tutoring, business training sessions, or videoconferencing (though, for now, you will need to bring your own equipment).
Due to adjacent office spaces, this conference room is not suitable for counseling patients or therapeutic sessions, or for music lessons. We don't have a waiting room. All guests must remain in the meeting room with you.
These are general guidelines. Please talk to us to determine whether your intended use is a good match for this space. To contact us, click here.
Please note that you will need to bring your own screen(s), projector, flipchart, movable whiteboard, etc. At this time, we offer only the basic meeting room.
Parking
There is free parking for the meeting planner (you) directly behind the building, subject to availability. Access is via W. Raspberry Street just feet from the I-378 exit, and running parallel to W. Broad Street. Then go along the walkway that is on the west side of the building, come in the front door and up the stairs.
For all other attendees, we recommend suggesting they use metered parking on W. Broad Street in front of the building. There is normally abundant parking available.
Cost
The conference room rental cost is $30 per 2-hour block. You can pay by credit card or check ahead of time OR by arriving a few minutes early. Sorry, no partial blocks please. This structure keeps it both affordable to many users and worth doing. Can't decide whether to go for one block or two? Users report best productivity at: The 2-hour meeting (yep, that's one block).
Additional Benefits
Coffee and snacks available at no additional cost in the nearby kitchen.
You and your guests will have access to high-speed Internet (wi-fi).
*Here for videoconferencing but new to it? Fortunately, we offer basic training on Zoom that will make you look like a pro, as well as tips for presenting via other videoconference packages.
When's Your Meeting?
Email us with what you are looking for here.